Sunny Wood — Hole #16: Par 3
By
Golden Tee Fan
• Category:
Sunny Wood
•
Think it's got to get easier?  Think again!  Here's a really tough par 3 that can burn you in a bunch of ways.  Your attack plan depends on the wind, but you'll always be shooting into a green that slopes 10 degrees towards the water in back.  If the wind is in your face, it's a bit easier, because then you can plan to carry the green and stick it with backspin.
If the wind is at your back, you might have to get creative.  Often times the best shot is a low-lofted iron with backspin that lands short of the green but hops up onto it.  If you try to carry this club, the wind may push it all the way to the water, or backspin might not be enough to hold the green either.  Still, landing short and bouncing up is really tough too, as you'll notice the different slopes and angles as the rough rises up to the elevated green.
If you're short, you'll have a tough chip depending on the pin placement, and you have to be careful.  Even when you're on the green, a downhill putt is incredibly dangerous since, if you miss, you're in the water there too!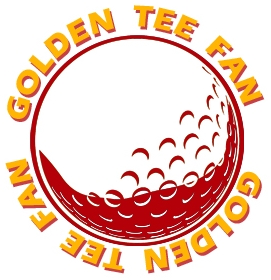 Golden Tee Fan is a Golden Tee addict from Chicago, IL, thirsty for tips and tricks!
Email this author | All posts by Golden Tee Fan