Sunny Wood — Hole #17: Par 5
By
Golden Tee Fan
• Category:
Sunny Wood
•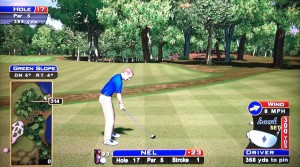 There are three ways to get there in two.  First is the traditional route, following the fairway on around.  If you're got a nice wind helping you out (blowing to the right), this may be your best chance of landing the green in two.  Get your drive out there as far as you can, and you'll be left with a manageable A1 into the green in two.  This shot will still test your accuracy as left is water and right is sand!
The second, and by far most popular, way is the shortcut through the trees!  Locate a patch of short trees growing in the midst of the forest, and try to land in here somewhere towards the end of the patch.  In general, hit it as far and as right as you can, which is usually a 3-wood A1 off the tee, because there is much more clearing the farther you go.  You just might find yourself able to punch a low-lofted iron with backspin towards the green, and if you control the distance, you'll have an eagle putt!
Finally, there are island patches of green in the middle of the trap straight ahead.  If you can hold one of these, you may have a shot with a driver or a 3-wood into the green, but the trees can definitely interfere with that approach shot as well!
Rumor has it that some pros have driven the green on this hole — I think with a low-loft driver C3 shot from the far right box!
THE LONG WAY AROUND
THE SHORTCUT THROUGH THE TREES!
HERE IT IS — SUPER ALBATROSS!  AMAZING!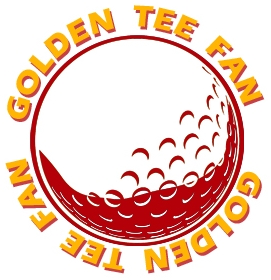 Golden Tee Fan is a Golden Tee addict from Chicago, IL, thirsty for tips and tricks!
Email this author | All posts by Golden Tee Fan