Sunny Wood — Hole #18: Par 4
By
Golden Tee Fan
• Category:
Sunny Wood
•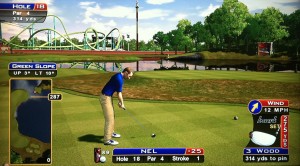 Sick of these island greens yet?  Don't worry — this is the last one!  Sunny Wood finishes with a drivable par 4, but if you miss the green, par will be tough to achieve.
As with most of the drivable par 4s, you'll have an offset look, so you'll have to make sure you pull back at the correct angle and most likely shoot forward at the same angle, using the 180-degree rule to maintain distance and keep a straight shot.  You'll use anything from a driver to 5-wood here, and the green slopes up but also severely left towards the water.  Above all else, your goal is to stick the green, and the best way to do this is to land your shot up high and right and use backspin to pull it back down towards the middle.  Once again, be careful of downhill putts where the penalty for a miss is water!
EXAMPLE HOLE-OUT 1
CRANK UP THE VOLUME!
UNBELIEVABLE — ONE OF THE BEST SHOTS EVER!!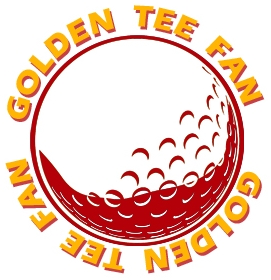 Golden Tee Fan is a Golden Tee addict from Chicago, IL, thirsty for tips and tricks!
Email this author | All posts by Golden Tee Fan