Woodland Farm — Hole #12: Par 5
By
Golden Tee Fan
• Category:
Woodland Farm
•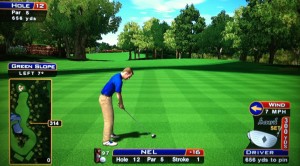 From the left tee box on this crazy par 5, you can usually play a big A1 with roll and get your ball to either carry, skip, or bounce down to the lower-level fairway to the right.  If there's a big wind at your back, you may consider laying up at the top of the left fairway, but it's very difficult to get there in two from here unless you have this type of wind at your back.
From the left side of the right box, hit a big C3 with roll into the middle of the fairway.  You'll still have a long way into the green, but this is your best shot to set up an approach that might get there in 2.  You can also cut the corner over the trees a bit by using a 5-wood C3 shot!
From the right side of the right box, you can usually hammer a B2 right down central that will leave you within striking distance of the green!
Depending on the distance of your approach shot in, you might have to play a C3 or A1 here also.  It's uphill, so if you try to hit a B2 with roll and it gets caught up in the elevated fairway, it may not go more than 300 yards!  This green is well-guarded, so you may have to try to skip it over the sand and hope it holds the green or fringe!
EXAMPLE HOLE-OUT 1
EXAMPLE HOLE-OUT 2
From the left fairway, check out this huge driver hole-out!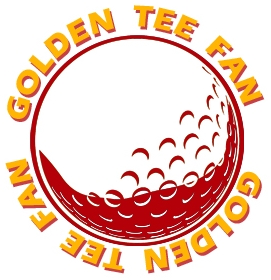 Golden Tee Fan is a Golden Tee addict from Chicago, IL, thirsty for tips and tricks!
Email this author | All posts by Golden Tee Fan