Bella Toscana — Hole #4: Par 4
By
Golden Tee Fan
• Category:
Bella Toscana
•
If you're playing with the red distance balls, then this hole becomes much easier, but you certainly don't need them.  Usually, even a 3-wood has enough loft to clear the center and left parts of the tree in your way.  If you control the distance, you'll be on the green for an eagle putt!  Here's a hole-out straight over with the 3-wood.  Here's another perfect 5-wood dunk from the left box.
Always err to the right on this hole, because the sand still offers you an easy birdie, where the water will give you a disappointing par.
If need be, you can still curve a driver around the tree. Here's one skipping off the water into the hole!
Worried about going around the left and having to skip water?  If a straight 3-wood doesn't have enough distance, turn right and pound a C3 through the gap in the trees, using the length of the green to your advantage!  Damage Inc. has mastered this shot — watch it not once, but twice!
There's another tee box off to the left (only available in casual play) that offers you an unimpeded shot at the green, but you'll still have to carry the water.  Here's a hole-out from there.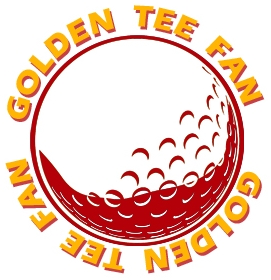 Golden Tee Fan is a Golden Tee addict from Chicago, IL, thirsty for tips and tricks!
Email this author | All posts by Golden Tee Fan