Bella Toscana — Hole #9: Par 5
By
Golden Tee Fan
• Category:
Bella Toscana
•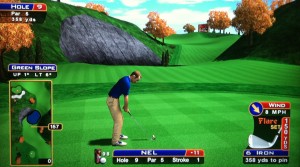 It's easy to think you need to clear the river to have a chance at the green in 2, but that usually won't pay off.  The fairway slopes back towards the mud and water, and you'll probably get stuck here instead.  The reward isn't worth the risk, even if you can hit a 7-wood or 9-wood into the green from there.
So, take it easy off the tee and lay back for a 5-wood approach, playing the ball a ways back from the river.  To be safe on your approach, you may also want to play a bit of a right-to-left shot, because it can be easy to clip the hill on the left side of the approach.  Here's a hole-out from 233 that was still able to clear the right edge of the hill on the way in.  Better yet, try to leave yourself somewhere close to 260 yards — from this distance, a 5-wood flies right over the top with no issues!  This 4-wood went under, into, over, and in — amazing.  Also, if you have a 7-wood in your bag (and you should), you can get a bit closer and have more confidence in clearing the hill on your way to the green — here's a 7-wood hole-out from 223.  And here's a great 9-wood!
Another option several players are using is to turn right and hit a 3-wood to 5-wood up on that hill, by the house.  From there, you'll have a level, straight shot to the hole with a 3-wood or driver!  Here's one from half-way up the side of the hill with a 5-wood.
Finally, there's a front-left tee box (only available in casual play) that would allow you to carry safely onto the second fairway, leaving a much easier approach shot in two.  There's also a chance that this green could be driveable from there, maybe with a C3 5-wood over and around the hill!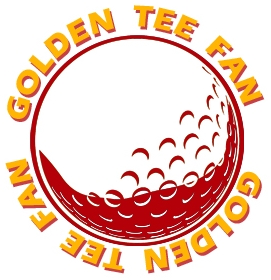 Golden Tee Fan is a Golden Tee addict from Chicago, IL, thirsty for tips and tricks!
Email this author | All posts by Golden Tee Fan