Golden Tee 2010 — Early Reviews from the Pros!
By
Golden Tee Fan
• Category:
2009 - Golden Tee LIVE 2010
•
Hey everyone — I've gotten some early feedback from guys lucky enough to spin some games at the few pilot locations for Golden Tee 2010, and I wanted to share the early hype!  Below are comments I've found — read, enjoy, and get excited to play it for yourself!
The Great Wall – Definitely a beginner course, to say the least. Beautiful course but it makes the DC course seem difficult. GT par on this course is currently -27 or -26 with only one hole that could be driven under ideal conditions. The par will probably drop by a stroke as hole number 5 is labeled as a par 4 and is definitely a par 3. Course Grade – C
Bella Toscana – This course is on the easier side with a bit more challenge than Great Wall. The Italian music playing in the background was cool and par does not change on this course from what I saw. GT Par -27. Course Grade – B
Tahiti Cove – Strange course…this has the lava and design a hole. The designed hole is okay…but far too easy. Par on this course could be -25 to -27. I did feel it was too easy. The lava only comes into play on one hole and the greens are not very well protected. Course grade – B-
Monument Valley – There is no other way to decribe this course but awesome. It is Rattlesnake Ridge, Kings Canyon, and Black Hills all rolled into one and then given a steroid injection. The canyon shot is back, sort of…and there are a few "bounce" shots as well. Upon further review, I believe this course to be fairly easy and will be extremely easy within a month of learning the shots. Par could be from -26 to -29. Course grade – B+
Southern Oaks – For a course that has no shortcuts and plays like real golf, you couldn't design a better course. This course will definitely not be decided by shot points. If you cannot work the ball precisely and control distance, you will not score on this course. I would rank it just behind Monument Valley for enjoyability. After now playing it a few more times, I think this course offers less of a challenge than I first thought. It will be the Savannah of this year (15 easy holes and 3 holes you have to make a decent shot) Par can range from -23 to -26. Course grade – B
Overall the game play was good. The shot indicator was a little distracting, but once you got past it, not too bad. The biggest change this year is when it is raining you can take dead aim at the flag…I don't care what club you are hitting the ball lands ultra soft. To give an example…I had 86 yards to a pin on an up 8 green into a 12 mph wind…hit an 8 iron with backspin that did not get back to the hole. There is definitely going to be a small learning curve for everyone.
The quick shot lock is a little freaky at first…especially on chip shots. The ball rockets off the club and for a split second you think you screwed up.
The Great Wall
Hole #
Par
GT Par
1
4
3
2
4
3
3
3
2
4
5
3
5
4 (3)
2
6
4
2/3
7
3
2
8
5
3
9
4
3
10
4
2
11
4
3
12
3
2
13
5
3
14
4
2
15
5
3
16
4
3
17
3
2
18
4

2
Bella Toscana
Hole #
Par
GT Par
1
4
3
2
4
3
3
3
2
4
4
2
5
5
3
6
4
3
7
4
2
8
3
2
9
5
3
10
4
3
11
4
3
12
3
2
13
5
3
14
4
2
15
3
2
16
5
3
17
4
2
18
4

2
Tahiti Cove
Hole #
Par
GT Par
1
4
3
2
4
2
3
3
2
4
5
3
5
4
3
6
3
2
7
5
3
8
4
3
9
4
3
10
4
3
11
3
2
12
5
3
13
4
2
14
4
2/3
15
4
2/3
16
5
3
17
3
2
18
4

2
Monument Valley
Hole #
Par
GT Par
1
4
3
2
4
3
3
3
2
4
4
2/3
5
5
3
6
3
2
7
4
2/3
8
5
3
9
4
2
10
4
3
11
4
2
12
3
2
13
5
3
14
4
2
15
4
3
16
4
2/3
17
3
2
18
5

3
Southern Oaks
Hole #
Par
GT Par
1
4
3
2
5
3
3
3
2
4
4
2/3
5
4
3
6
3
2
7
4
2/3
8
5
3
9
4
3
10
4
3
11
4
3
12
3
2
13
5
3
14
4
2/3
15
5
3
16
3
2
17
4
2
18
4

3
I have had the opportunity to play the courses a bit more now and I find them to be underwhelming on a difficulty scale. Newer players will probably enjoy them for their aesthetic beauty, but players will dislike them very quickly due to their repeatability and lack of challenge.
Another quick review:
I wasn't a big fan of the dynamic distance indicator — I really think it's going to hurt the average/casual player way more than it's going to help. I really never look at that thing except to make sure I've got the right club. For example, if I see 263 I know I've got a 3 wood and it's raining. Well, now the 5 wood says like 260 or something, so I hit the 5 wood when I thought I had a 3 wood about 4 times. Another thing, it adds about 6-9 yards on every club, which isn't the case even when playing the freak balls. 7 iron says 146 into a 9 MPH wind. The average player is going to step up, see that, and hit his shot about 15 yards short!
There are no freak balls, so I wasn't going to play em if I can't use them. They have 2 new D2's and the regular D2's. They have the D2 Diva(which seemed like gamers) D2 Distance(which weren't like freaks), and the regular D2's. I played the D2s at the beginning of 2009, so I went back to those after playing the Diva and Distance on the first 2 rounds. I really like the regular D2's more than the 2 new balls.
As far as the courses…
I'm pretty sure I'll use the OB's on 4 courses and the BB set on Bella Toscana.
They were fun courses, but over all I don't think they were very difficult. My first cycle I played on a machine where the trackball was terrible IMO.
I shot -21, -15(stroke limit on 18), -20, -21, -16. I really was having issues with the ball, and the set ups really weren't that difficult.
The 2nd time around on a different machine I shot -25, -21, -24, -25, -20. I'm not going to go into detail, but if I had to rank the courses for me personally, they'd be: Bella, Tahiti, Monument, China, Southern.
I didn't really get a good feel in terms of difficulty which ones are tougher than the other. The only thing I remember thinking was that by January, everyone will have the courses down.
Overall, they are neat courses, but I think it brings a lot of players into the mix. Not really what the "Bangers" wanted to hear I'm sure. They are for sure pretty and nicely designed. I really didn't enjoy the design a hole — it was hard to recognize. Hills #15 is way better, IMO.
The 9 holers are 9 holes from the same course.
Another quick review:
The canyon course is the most fun course they've had in a few years. It's kinda like putt-putt. There's hoops you have to hit it through to make eagle on 3 or 4 holes, and the final few holes can send a good round right into the can. It is a great match play course.
Bella has some fun holes, and it's kind of like Black Hills. The high loft clubs come in handy on a few holes, so for those of you who switch clubs, this might be the one to do it on.
The other 3 courses have 14 boring holes and 4 good holes (on average). We quickly figured out some of the "tricks", which turned "difficult holes" into simple holes.
Overall, I just think our expectations for new courses has gotten to the point that anything we get is initially "boring". There's only so much you can do without turning it into putt-putt golf.
And, the shot visualizer screws you up because you constantly get tricked into hitting it short. The rain definitely decreases the backspin and roll. Backspin shots in the rain are almost like throwing darts – the ball ends up about where it lands.
I love the Diva (new 2010 ball). It's got a beautiful lavenderish logo on the ball.  As soon as I read the description, they had me. It says, "Maximum power with minimal effort". I hit everything 350 without hitting the trackball hard. But I think it maxes out slightly quicker than a regular D2. But I don't care. I'm a Diva!
Another quick note:
One nice thing they have changed is in regards to the hit list feature. They have adjusted the volume of Jim and Peter such that if you have the hit list on and the volume turned up, they are barely audible and very much in the background instead of BLARING over the music…..
One more review here:
Overall, I really liked the courses- there did not seem to be too many tricky shortcuts, though I'm sure I missed a couple.
I like the new club sets, and used the new BB set across the board (it's basically the same as the old BB except, you lose the 4 iron and gain a 4 wood) I really didn't see a huge advantage with the other clubs, but of course, I am not a banger, so your mileage may vary.
I think the consensus will be that Monument will be the most favorite course. There's a par 4 with a rock/bounce shot over/under a couple of stone arches. There's also a weird hole where I was able pop-it up/bounce/skip with an A1 5-Wood and get in from there, though it looks like you need to play some kind of gap shot further down the hole.
The courses are VERY forgiving- especially Monument. There's a couple of holes that when you go for them, you would get wet in older versions. Here, you are either in the 'dust' or 'mud', like Savannah and you still have an easy birdie. That's also true on some of the other courses as well. In fact, I really don't remember a blow-up 17th hole.
The 18th on Monument is really cool. It's an unreachable par 5 and you have to place your tee shot exactly right to get a look into the green- which is protected by 100 foot tall stone walls with water on one side. Other cool effects include the 'shimmering' effect that you see on real desert golf courses. I.E., the rocks/mountains in the distance are shimmering due to the heat off of the desert…very cool effect.
Southern Hills was also good. I think newbies will like it, because on some of the earlier holes your only approach shot is to turn left once and hit an A-1 mid iron with backspin. I played the course three times and all three times it set-up for this type of shot, and with good results, so I think it may have been intentional to help people understand you need that shot in your bag.
The courses will be very competitive- i.e., not a single course is like Black Hills, where you can shoot -15 and someone else on the same set-up shoots -29. I don't see that happening here. Also, there's not that many 2 stroke 'swing' holes as noted above.
The distance indicator did not effect me at all. It was 'more' accurate with wind and rain, but it still does NOTHING for elevation changes.
The transition music is corny and specific to the course. The commentary was new, but nothing really caught my attention. I played around with the quick-shot lock but didn't use it.
NO ROLLOVERS!!! Oh yeah, I forgot- I didn't have a single roll over putt. I was able to bang them home down 7 or less. I love that. I've lost countless money games over a stupid 7 foot, down 10, right 5 that lips out and goes wet. I don't think that will happen any longer.
There's a new graphic effect on the course- the shadows of the clouds cross over the green/fairway in the speed and direction of the wind. Very cool.
There's all kind of new options when you start that I think will make things even more confusing. However, prize play was enabled and I took 7 first places!!! Of course, that's because I am now 4-5 courses ahead of everyone else, lol! (Probably the first and last time that will ever happen!
)
After one cycle, I was averaging -20 to -21, with a top score of -23. I then experimented a bit and combined with some beers, my scores started to slide.
More from the same source:
The "Tropical Falls LIVE" has the design a hole (I think they call it Tahiti Cove). I think it is hole #7. On both the looks I had, you couldn't see the sign- it wasn't close enough to the tee. Also, you would be really hard pressed to recognize it- it's hard to see the '2010' in the design.
Some of the other courses have gimicky designs as well. For example, the Italian Course has a stupid looking 'Pepperoni Pizza' garden with a slice missing. It makes the otherwise beautiful course look cheap.
Also, I had another night of no-rollovers. 8 Down putts slammed home go in.
Finally, the club/ball combinations seem to make sense. Got the right kind of backspin on all clubs (not just irons). In the rain, it lands SUPER soft, with almost no backspin- it's like throwing darts. I played with the New BB (6 Woods, Driver, 3, 4, 5, 7, 9), and the First set of balls on the left (high trajectory, more backspin).
I think there were, maybe, a couple of holes where it would have helped to have something different (like a 1 iron). On all the others, the driver was able to clear things the right way, and there didn't seem to be any 'intentional' tree/leaf shots (like on Sunny Wood), where the right strategy is to club up and overhit with the intention of hitting the trees.
Editor's note — rollovers are not eliminated, as I have heard of a couple guys still seeing rollover putts.  I guess at least we can hope these instances will be decreased!
Here's another review that just came in:
I played Old Birds w/Freaks for all rounds, and didn't bother with GT Par etc… played each course 1x and a nine-holer also.
The graphics are awesome, the clouds moving are cool– very stunning on the LCD pedestal — didn't have the sound on so can't comment on background sounds or new commentary — graphics detail gets and A+ in my book, but so do the 2009 courses.
You don't realize how much the rain really kills the ball until you actually play, no matter how much you read here IMO.
I was really underwhelmed overall, unfortunately.
Southern was my favorite, for no particular reason.
I liked Monument Valley a lot, except for the weird and IMO cheesy bunker designs. With such a great natural design and idea, I thought the bunkers and sharp edges of the tee-boxes took away from the design a lot, but still fun to play.
Seemed like we had the back tee boxes on most looks, but overall I didn't think the courses were any more difficult.
These seemed more forgiving for sure where you can screw up a par 5 in a lot of cases and still end up with birdie.
We had a few rollovers.
A lot of my shots seemed to come up short, but that could be a lack-of-skill issue; I don't ever use the indicator for more than checking to make sure I have the proper club.
The design-a-hole was so-so, and like others said, I hardly noticed the sign until I turned right at the last second before my shot.
Had one unplayable lie on Monument with a ball rolling down rock and just stopping (hole 9 I think).
I'm sorta anxious to have them where I play, but don't feel like I'm missing out until then.
Black Hills is still the best course design ever IMO.
Overall?? C-plus or B-minus I suppose
.
When 2009 came out it was a solid B-plus or A-minus in my book.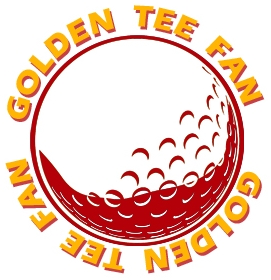 Golden Tee Fan is a Golden Tee addict from Chicago, IL, thirsty for tips and tricks!
Email this author | All posts by Golden Tee Fan