Monument Valley — Hole #10: Par 4
By
Golden Tee Fan
• Category:
Monument Valley
•
Take a look at your tee box and wind, and figure out whether or not you can safely hit a C3 that will stay in the fairway.  If so, you'll have a pretty easy approach shot, like this one! If not, then try to lay back for a 5-wood into this green, because you'll want the extra loft to carry over the hill guarding the front — here's an example.  Finally, if you have a left tee box, you can hit a driver straight towards the green, cutting the corner, which also leaves a nice approach shot.
This hole also features a tee box only available in casual play that offers an outside shot at driving the green, although it'd still be over 400 yards.
As a final note, some pros are occasionally driving this hole!  It seems that if you have the left box and a nice wind, and especially with the red distance balls, you can hammer a B2 shot that will carry onto the rock hill in front of the green and then drop down onto it.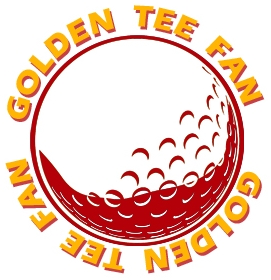 Golden Tee Fan is a Golden Tee addict from Chicago, IL, thirsty for tips and tricks!
Email this author | All posts by Golden Tee Fan