Monument Valley — Hole #13: Par 5
By
Golden Tee Fan
• Category:
Monument Valley
•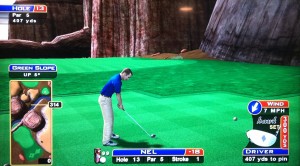 Now here is a fun tee shot!  Take a close look at the log seemingly lying across the fairway.  You'll notice there's room underneath, and this is important because you're going to be rolling your tee shot right under there!  Pick a low-lofted club that has the distance marker right on the log.  Now just hit a firm shot forward, and watch the ball trickle under the log, rolling down and sitting on the grass in front with a clear view of the green!  Even if you hit your tee shot a bit too hard, the ball can still deflect off the log and down where it needs to be.  Sometimes you'll get unlucky with the bounce and it will nail the log and stop — when this happens, just pull out your putter and putt under the log to the lower tier.
I don't suggest using roll on the tee shot, because that ball gets moving down the slope and can roll off the fairway into the gulley.  Sometimes, though, roll will be required if you've got the X-22s and want to play the 5-iron.  Practice makes perfect with this tee shot!
Another option is to go over the top, especially if you have a 7-wood.  This works best with a headwind, where the wind and backspin guarantee that you'll stick the landing.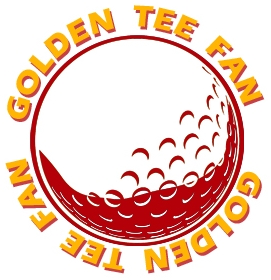 Golden Tee Fan is a Golden Tee addict from Chicago, IL, thirsty for tips and tricks!
Email this author | All posts by Golden Tee Fan