Monument Valley — Hole #14: Par 4
By
Golden Tee Fan
• Category:
Monument Valley
•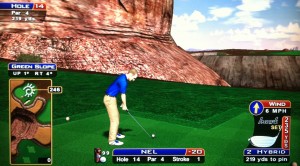 You'll want to play this shot almost identically to how you played #7.  You'll need a low-lofted club and a bunch of curve — anywhere from a C2 to a C3-type shot.  From the back box, here's an example of rotating right twice and hitting a C2 3-wood with backspin that got a nice kick into the hole!  Here's another awesome shot from the back box.  And here's yet another fantastic bounce!  Check this one out — it ends up turning completely backwards!  And here's one more with a great kick that didn't require quite as much curve.
From the front box, you can cut a low-lofted iron around and under the gate in front of the green.  If you don't have low-lofted clubs, I recommend playing a half-strength driver instead.  It will have the hook to give you a chance at the green where something like a 7-wood won't be possible.
Here is an incredible bounce off the top of the gate with a 5-wood!
Sometimes you won't be able to get it to the green because of a bad box or a strong wind to the right.  In these cases, lay up in the fairway and hole-out for eagle anyway, like this!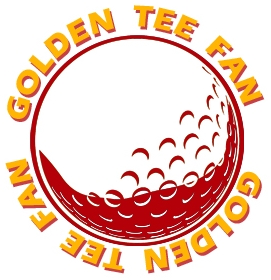 Golden Tee Fan is a Golden Tee addict from Chicago, IL, thirsty for tips and tricks!
Email this author | All posts by Golden Tee Fan