Monument Valley — Hole #18: Par 5
By
Golden Tee Fan
• Category:
Monument Valley
•
Monument Valley finishes with a par 5 that features a very intimidating shot into a canyon that has a little green in the middle, sloping backwards into the abyss!
The tee shot is nothing, but your approach will be a nightmare.  With a cross-wind, you can manage the distance and hit a club with no spin that should hold the green.  With a tailwind, you'll want to land the front of the green and let the wind take the ball up the green, where it should settle.  If you're long, though, it's off the canyon and backwards off the green for a penalty.
A headwind here makes the shot near impossible.  You'll need to find a way to leave yourself something like a 2-iron into the green, but I don't think that a 2-iron would make it into a headwind from the end of the fairway.  If you lay up on your second shot, here is a 2-iron into the green — much easier to control.  Also check out this incredible driver skip — must have had a tail-wind and hit a 3/4 shot to keep it low, amazing!
Occasionally you'll get a setup where you can drive the lower level, which enables you to hit a much easier shot, like this!
One last option, especially with a tailwind, is to go long on purpose, landing on top of the mountain behind the hole.  It slopes down towards the green, and as long as you don't land too far back on there, your ball will trickle backwards onto the green!  Some examples are below.
One last note — there is a front-left tee box (only available in casual play) that may allow you to carry your tee shot down to the second fairway, creating a much easier approach shot in 2!
RATTLING AROUND AND IN!
GREAT HOLE-OUT
ANOTHER SKILLED HOLE-OUT
TAKING THE HIGH ROAD!
ANOTHER ONE OFF THE TOP
CRAZY SIDEWAYS PINBALL!
5-WOOD DUNK!
QUADRUPLE BANKER!
INCREDIBLE BANK-DUNK!
EVEN BETTER DOUBLE-BANK DUNK!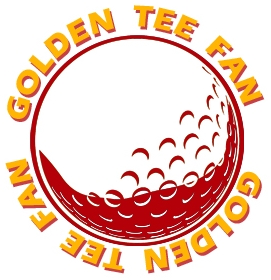 Golden Tee Fan is a Golden Tee addict from Chicago, IL, thirsty for tips and tricks!
Email this author | All posts by Golden Tee Fan