Monument Valley — Hole #7: Par 4
By
Golden Tee Fan
• Category:
Monument Valley
•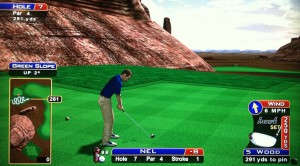 On this hole, I've been lining up with the green, rotating twice to the right, and playing a C2 shot with backspin through the gap in the rock — here's a great example!  If you can really get the ball going right-to-left (via the C2), you have a better chance of holding the green with backspin.  Here's another driver with maximum right-to-left cut.  Rotating once right and playing a C3 can work too, but you might not be creating enough angle to hold the green.  However, if you use a 5-wood, you can actually cut OVER the corner of the wall, like this!  Here's another great 5-wood cutting the corner over the wall.  And check out this gorgeous deflection!
If you think making the green is iffy, add roll to your shot.  The extra kick might put you on the green for a long putt.  If you do come up just short, consider being aggressive on the chip, because it's a long, flat green where you can really roll at the cup!
If there's a bad left-to-right wind, you may want to lay up in the fairway and just hole-out from there!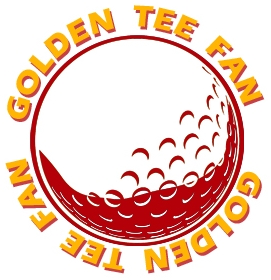 Golden Tee Fan is a Golden Tee addict from Chicago, IL, thirsty for tips and tricks!
Email this author | All posts by Golden Tee Fan