Monument Valley — Hole #8: Par 5
By
Golden Tee Fan
• Category:
Monument Valley
•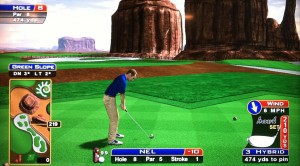 The shortcut here is pretty obvious — you need to stick your drive on one of the grassy pods in the middle of the sandy area straight ahead.  Thus far, I haven't found any reason to aim for any other spot than the 3rd pod from the back.  If you stick it there, you should have a fairly straight approach shot into the green for eagle!  Here's an example hole-out from that spot.
If you're not up for the accuracy test, you can also turn to the right a couple times and sling a C3 around the rock (given a cooperating teebox, of course).  It may not get to the fairway, but you can still reach the green from the junk!
If you get the front tee box, and especially if you have the red distance balls, there's a much better tee shot you should consider.  Rotate right towards the fairway there.  You should be lined up with a rock wall that has a convenient hole in the middle of it.  If you have a straight line from your tee box to the hole in the rock wall to the fairway on the other side, you can hammer a straight drive there and have a very short approach shot, leaving you with a tap-in eagle!
Finally, you can sometimes take the traditional route around the left side if you get a good tee and favorable wind by hitting a big A1 driver after a long drive.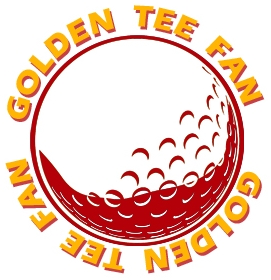 Golden Tee Fan is a Golden Tee addict from Chicago, IL, thirsty for tips and tricks!
Email this author | All posts by Golden Tee Fan