Tahiti Cove — Hole #10: Par 4
By
Golden Tee Fan
• Category:
Tahiti Cove
•
The decision off the tee here can be perplexing!  Initially it appears as if you'd always want to go to the left, but the Golden Tee course designers were kind enough to ensure that if the tee shot strays to the left a bit, it will roll right down onto the lava rock, which is a penalty for an unplayable lie!  Teeing off to the right is safe, but how are you going to get close in two?
If you're confident in your ability to keep your tee shot safe taking the route to the left, it's still the best play.  You may think about cutting the ball into the hill to protect against rolling down to the right into the penalty.  This leaves you a clear shot at the green in two.  Here's a hole-out from the left after a great drive.  This guy got the unplayable lie, but recovered with a great worm-burner for birdie!
If you don't like the left route, take the route to the right, but stay as far left as you can.  Off the tee, it appears as if you need to drive the ball farther than you really do — you'll see that the trees in the middle don't interfere as long as you get out somewhere in line with the middle of that tree patch.  You'll often still have a straight shot to the green, especially if the pin is on the left.
You can still work a minor A1-type shot into the green, but often times the trees come into play if the pin is middle to right on the green.  If this is the case, just try to hit the left side of the green, where at least you'll have a birdie putt, albeit a long one.  Here's a great hole-out from the right using a low-lofted iron.  Here's another nice hole-out from the right that required a big hook!
Finally, make sure you take elevation into account!  You might need more club from the left fairway since you're hitting uphill, and you may need less from the right for the downhill shot.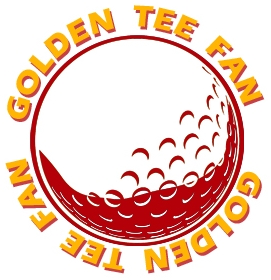 Golden Tee Fan is a Golden Tee addict from Chicago, IL, thirsty for tips and tricks!
Email this author | All posts by Golden Tee Fan