Tahiti Cove — Hole #12: Par 5
By
Golden Tee Fan
• Category:
Tahiti Cove
•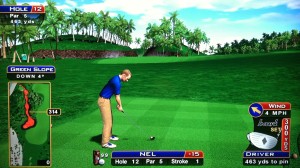 Lots of options off the tee here, but I play to the same place almost every time now.  I like to lay up in front of the lava lake, in line with the hole.  From here, you can lob a 5-wood onto the green, like this great shot (love the bubbling lava)!  A 3-wood may also clear those last trees by the green, but it depends on your distance and how hard you hit it.  If you're a ways away still, hit it harder and plan on the trees slowing down your shot. I don't recommend trying a driver from here, but you should be close enough that you don't need one.  Use as much loft as you can given your distance.
Another option many players like is to pound a drive a ways down the fairway, leaving you around 250 yards away for a 5-wood.  Here is an example of the spot to be, with a nice hole-out over/through the trees!  You can also work a 3-wood or driver through the trees from here if you're farther away, but it's obviously more difficult  — check out how this shot rockets off the hill into the hole!
Finally, from the front tee boxes, you can try to find a landing area up on top of the hill to the left.  This gives you a shot at the green in two.  Of course, it comes with risks of tree interference on both the drive and the approach.
To finish off, here is one of the most amazing and frustrating shots I've ever seen.  It's the traditional route, where he cuts the ball around the trees and skips over the lava lake onto the green, into the hole! Problem is, NO ONE GETS TO SEE IT, because he never changed the camera angle!  Amazing.  Here's the same type of shot with some sick bounces into the hole!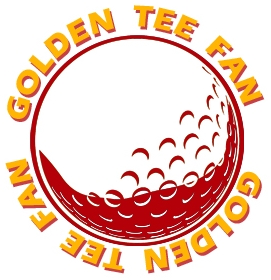 Golden Tee Fan is a Golden Tee addict from Chicago, IL, thirsty for tips and tricks!
Email this author | All posts by Golden Tee Fan