Tahiti Cove — Hole #14: Par 4
By
Golden Tee Fan
• Category:
Tahiti Cove
•
Check out your tee box — if you're on one of the two closest boxes, you've got a chance to drive this thing!  It takes bravery and a beautifully executed shot (or an already trashed round), but it's fun to try!
From the front box, there's a gap in the trees, and you'll be short enough to work a 3-wood through there to the green — here's a fantastic hole-out from the tee!
Here's another one from the second box, where a driver is cut right through one of the gaps — incredible!  This one is even more amazing.  Here's a more recent one that's just as impressive.
Anyway, back to reality for most of us — you'll want to cut as much distance as you can by playing an A1 off the tee, but you have to be careful not to drive completely through the fairway.  If you go too far, you can end up with an unplayable lie on the lava rock.  Here's an example hole-out from a tee shot that almost went too far!  And here's a hole-out from the rough after a big hooking tee shot almost cut back too much.  You want your shot somewhere in between!  Remember that a tailwind will push your ball towards the lava, so scale back a club or two and be safe.
There's also a tee box only available in casual play that would make this hole driveable.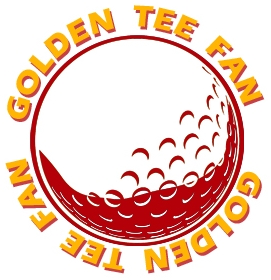 Golden Tee Fan is a Golden Tee addict from Chicago, IL, thirsty for tips and tricks!
Email this author | All posts by Golden Tee Fan