Tahiti Cove — Hole #17: Par 3
By
Golden Tee Fan
• Category:
Tahiti Cove
•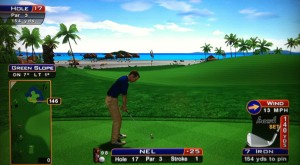 As you might expect coming down the stretch, this long par 3 has a horribly-shaped green like a 4-leaf clover and is very hard to stick.  Not only that, but the shape of the green means that even if you stick the green, you might not have a clear putt at the hole.  Your skills will be tested (and flaws exposed) here!
There's more bad news if you miss the green, because the chip is just as challenging.  With the wind and slope, chips can very easily blow off the green back into the water, so take care to lay up smartly onto the green.
One more note — if you happen to drift off the green and land on the wood edging, that's an unplayable lie — ouch!
Here's a nice hole-out from the back right box, and here is a nice DUNK!
Here's a hole-out from the back middle box. Also, you can sometimes use the rough in front of the green to your advantage, landing here and rolling on like this!
There's also a front left box (only available in casual play) that makes this shot MUCH easier — here's a hole-out from there.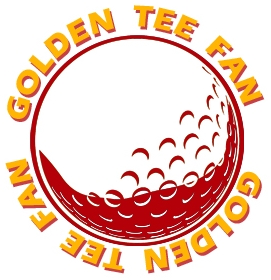 Golden Tee Fan is a Golden Tee addict from Chicago, IL, thirsty for tips and tricks!
Email this author | All posts by Golden Tee Fan