Tahiti Cove — Hole #7: Par 5
By
Golden Tee Fan
• Category:
Tahiti Cove
•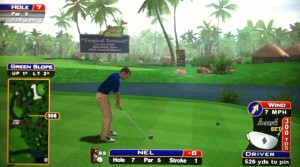 This should be an eagle for you just about every time — here's how to attack it:
First, if you have one of the tee boxes on the right, line up with the green.  You'll see a landing area a bit over halfway there.  Sometimes a tree impedes the shot, but either way, this is where you want to be.  You can even be a bit short (there's actually a fairway patch before the brown drop-off area also, which is safe) or long of this green pod, because even if you miss it, you can still reach the green in two — here's a hole-out of a shot that came up a bit short, and here's a 5-wood hole-out from the middle of this spot.
There's also a chunk of fairway left of this spot that leaves you around 250 into the green as well — here's a hole-out from that particular spot.
If you have the back left tee box, drive it out far and along the right side of the fairway, as far right as you can safely get it.  From here, you can still get there in 2 with a driver.  This tee shot was still in the middle of that fairway, and he managed to hole-out for double-eagle!
One more note — the brown crud that separates the layers of grass is an unplayable lie — I unfortunately had my ball stop here once!  Still, it's rare, and you should normally see your ball trickle down safely to the grass below.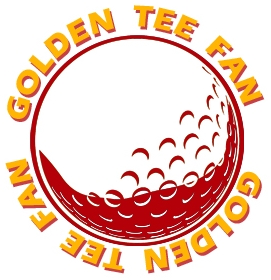 Golden Tee Fan is a Golden Tee addict from Chicago, IL, thirsty for tips and tricks!
Email this author | All posts by Golden Tee Fan