The Great Wall — Hole #15: Par 5
By
Golden Tee Fan
• Category:
The Great Wall
•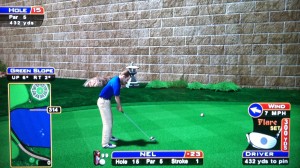 Here's one of the coolest holes in the game, offering you a chance at eagle if you can somehow land your tee shot on top of The Great Wall!  Difficulty depends on the tee box and wind.  Sometimes a straight-forward 5-wood does the job no problem, but other times you'll have to find the right degree of cut to curve a shot on top of the wall and stick it there.  7-woods and 9-woods can be wonderful clubs to have here, and you might even find yourself using something like a 7-iron.  Here's a double eagle from the top of The Great Wall!  And check out the huge bounce this got off the rock!
The penalty for missing can be severe — if you miss left at the base of the wall, you'll have to shoot backwards, and you're looking at par instead.  There's actually a thin line of grass that might catch your ball if you trickle off the right side of the wall — here's a hole-out from that lucky spot!  As a matter of fact, if you're really good and have a big right-to-left wind, you might want to aim for this spot off the tee.  If you land on top of the wall, the headwind will be too severe to reach the green in 2.
Check out this crazy double-bank shot — amazing.
Here's a beautifully creative driver from 350 out!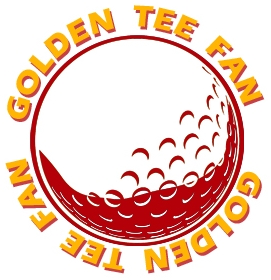 Golden Tee Fan is a Golden Tee addict from Chicago, IL, thirsty for tips and tricks!
Email this author | All posts by Golden Tee Fan