Alpine Run — Hole #9: Par 5
By
Golden Tee Fan
• Category:
Alpine Run
•
Handicap: 7th hardest hole
Category: Risk/Reward
Average Score: -0.89 / -2.00

---

| | |
| --- | --- |
| Birdie | 55% |
| Par | 19% |
| Bogey | 5% |
| Double+ | 1% |
The suggested shot off the tee is much better shown than described. The distance marker in the picture is lined up with a boulder, and you want to get the ball out behind and left of that boulder, where there are several open areas into which your ball will most likely settle. Line up with this spot or just right of it, tee it high, and hit a C3 driver that should carry past this rock into that valley area. Here's a perfect drive, here's another, and here's another drive that ended up just fine. Here's the approach shot from that second drive as well. Here's another open approach shot.
There are other areas around this spot that can end up giving you a clean approach too, but they are riskier — here's a hole-out from the snow. Keep in mind too that there's OB if you're too far left in the snow! Here's another example drive that ended up working out, but it's not ideal.
There's a strip of grass on the backside of the pond straight ahead — this is always an option to get there in two as well. Here's a hole-out from there. However, it's a bit tricky with the slope and can be hard to stick, and most players have better success with the first option once you figure out where you need to be.  Here's an AMAZING hole-out from the bottom of the hill after going too far off the tee!
Check out this sick eagle hole-out from the drop zone!
Eagle % is rather low here, because the shots off the tee often don't end up where intended! With that in mind, it's not a bad play to go around the long way to make sure you get your birdie here.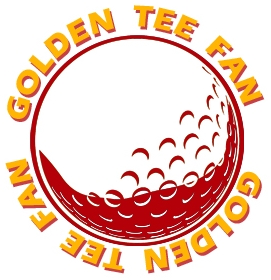 Golden Tee Fan is a Golden Tee addict from Chicago, IL, thirsty for tips and tricks!
Email this author | All posts by Golden Tee Fan