Falcon Sands — Hole #11: Par 3
By
Golden Tee Fan
• Category:
Falcon Sands
•
Handicap: 3rd hardest hole
Category: Difficult
Average Score: -0.48 / -1.00

| | |
| --- | --- |
| Birdie | 61% |
| Par | 28% |
| Bogey | 9% |
| Double+ | 2% |
A low-lofted club like a 2-iron certainly makes this hole easier, and here's one with a 5-wood — if you have to use a 9-wood and there's a strong wind, you're in for an adventure!
Even though the green slopes downhill, the wind should determine whether or not you use backspin. With a headwind, you'll be wanting to just let the ball settle when it lands.
A low tee can also be considered — the more wind effect you can eliminate, the better!
When the pin is by the edge of the green, especially on the low side, your putt becomes crucial. If you miss, you'll trickle off and have to chip back on, resulting in bogey or worse! I don't always recommend lag putting, but doing so here could save you a stroke or more and get you out of here with a par.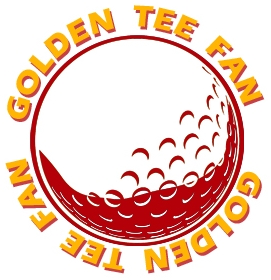 Golden Tee Fan is a Golden Tee addict from Chicago, IL, thirsty for tips and tricks!
Email this author | All posts by Golden Tee Fan