Falcon Sands — Hole #13: Par 5
By
Golden Tee Fan
• Category:
Falcon Sands
•
Handicap: 4th hardest hole
Category: Risk/Reward
Average Score: -0.99 / -2.00

| | |
| --- | --- |
| Birdie | 31% |
| Par | 23% |
| Bogey | 6% |
| Double+ | 2% |
Many options off the tee here. The easiest shot is usually a C3 or an A1 past the neck of the fairway, depending on the wind and pin. With a pin on the left, I usually like to drive to the right, and vice versa. This way, you'll curve the ball into the green towards the pin on the other side.
It gets tricky if the pin is on the right and the wind blows left. In this situation, you're probably best to play out left and cut a shot into the wind towards the pin (at worst you should find yourself in the middle of the green with a manageable putt). Be careful of the obelisk though — you'll probably want to club up to keep the ball deep enough to curve around without a deflection. If you play in from the right, the wind will blow your ball to the other side of the green, and now you have an awful putt. Putting is crucial here too because of the drop-off, and you can easily have a blow-up score here!
Others disagree with this strategy and never want to fight the wind on the approach shot, regardless of the pin. This strategy is safer in terms of holding the green, but you'll likely have a long, sloped, difficult putt. At least it's a putt though!
Check out the lucky bounce on this drive! Here's a hole-out from the right side., and here's a nice deflected approach onto the green. It's not even necessary to carry the second fairway — here's a hole-out from the sand on the right, and here's another near hole-out using the pyramid steps
You'll also notice there are shortcut squares of grass on both sides that offer a better angle into the green. You're assuming some risk in trying to land these spots, but the reward might be worth it, and some players prefer this approach every time! Here's a hole-out from the shortcut square on the left and here's one from the shortcut square on the right.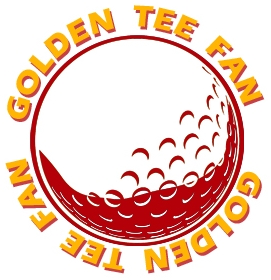 Golden Tee Fan is a Golden Tee addict from Chicago, IL, thirsty for tips and tricks!
Email this author | All posts by Golden Tee Fan