Falcon Sands — Hole #14: Par 4
By
Golden Tee Fan
• Category:
Falcon Sands
•
Handicap: 5th hardest hole
Category: Risk/Reward
Average Score: -1.01 / -2.00

| | |
| --- | --- |
| Birdie | 55% |
| Par | 14% |
| Bogey | 6% |
| Double+ | |
This one is fun! You will either be shooting through the hole in the building or going around the left side with a 5-wood (or 7-wood if you have one). Let's talk about the shot through the hole first.
If you're playing the Hawks, then a low-teed 2-hybrid will always get through the hole, so you can then just concentrate on distance.
From the front of the box, a medium-teed soft-thumbed driver does the trick — check out this great hole-out!

From the middle of the box, a 2-iron will get through.
Here's a low-teed driver from the back of the box that worked.
Have a 9-wood in your bag? Then you may have another option — tee it high and go right over the top!
Finally, there are many setups that allow you to go around the left side — check out this great shot! You can pull off the around shot with a 5-wood also, but a 7-wood makes it much easier.  Here's another option — a 6-iron over the top with a tailwind if you're towards the front of the box!  Check out the amazing bounces on this shot!
Finally, with the 7-wood, you can also go through or around the trees on the right side, giving you even more options based on your tee box and wind!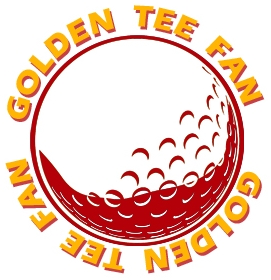 Golden Tee Fan is a Golden Tee addict from Chicago, IL, thirsty for tips and tricks!
Email this author | All posts by Golden Tee Fan