Falcon Sands — Hole #17: Par 3
By
Golden Tee Fan
• Category:
Falcon Sands
•
Handicap: 1st hardest hole
Category: Difficult
Average Score: -0.04 / -1.00

| | |
| --- | --- |
| Birdie | 52% |
| Par | 11% |
| Bogey | 24% |
| Double+ | 13% |
This cool looking hole can provide a challenge with a stiff wind if you're in between clubs. Even after sticking the green, you'll still have a tough birdie putt! Lots of blow up potential on this hole, as you can see from the numbers — average score is only par, so be safe!
Keep in mind the effects of the elevation here: cross winds still have a large effect, but tailwinds won't affect you quite as much — tee shots may come in "hot", reducing the impact of the slope, and the up 10 won't stop the ball as quickly. Don't over-compensate for a head-wind either since the ball won't be in the air as long for the wind to pull it back!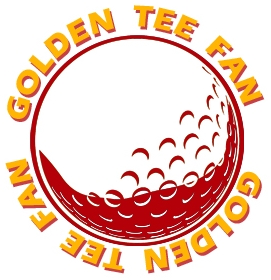 Golden Tee Fan is a Golden Tee addict from Chicago, IL, thirsty for tips and tricks!
Email this author | All posts by Golden Tee Fan