Falcon Sands — Hole #18: Par 4
By
Golden Tee Fan
• Category:
Falcon Sands
•
Handicap: 2nd hardest hole
Category: Difficult
Average Score: -0.49 / -2.00

| | |
| --- | --- |
| Birdie | 31% |
| Par | 24% |
| Bogey | 13% |
| Double+ | |
Even though you're downhill, you still need loft to carry the wall blocking the green, so hit as much loft as you can! It's actually better to be short, because from the sand on top of the building, you can at least chip and putt for birdie, instead of a long water ball really dampening your round. However, you can still end up pinned against the wall and have to waste a shot anyway!
There are some cases where you will not want to use backspin — namely, if the pin is all the way in the back center and you have a head-wind. In this case, backspin will leave you too far away from the hole, so you'll want to try to be accurate and let the ball dribble down towards the pin in the center of the green. Yes, this is difficult, but it's your best shot at eagle with this setup. No putt is easy here because of the down 11 slope, and errant putts will find the water, so good luck!  Here's a 3-wood that played perfectly in this setup.
In this case, the tee was at the back of the green, so a driver worked out well!
Here's a nice 3-wood to a tough pin. Check out the hop this 3-wood gets, earning a fantastic hole-out!
Here's a nice lofted 5-wood to a back pin. And check out this friendly hop on an angled shot!
Here's another fortunate hop with the 3-wood!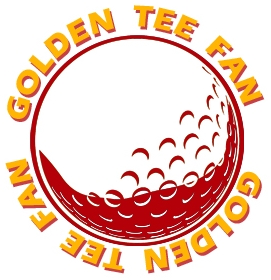 Golden Tee Fan is a Golden Tee addict from Chicago, IL, thirsty for tips and tricks!
Email this author | All posts by Golden Tee Fan