Falcon Sands — Hole #2: Par 4
By
Golden Tee Fan
• Category:
Falcon Sands
•
Handicap: 10th hardest hole
Category: Moderate
Average Score: -1.27 / -2.00

| | |
| --- | --- |
| Birdie | 36% |
| Par | 16% |
| Bogey | 2% |
| Double+ | |
Bottom line — aim straight at the green and let it rip! You'll almost always be shooting a B2 or other 180-type shot right at this green — even a medium-teed driver hit firmly will clear all the trees in the middle and on the right. So, in most cases, just pretend the trees aren't there, and focus on hitting the green. It's slightly downhill, so it may not take as much power as you think. Here's an example shot. Since this green is flat, landing anywhere on the green should be your priority!
If the wind is at your back, you have even less to worry about. It will be almost impossible to land directly in the water short of the green, so you can potentially take advantage of the steps down to the green and let the bounce and wind carry your ball onto the green. Especially because of this, don't be long!!
If the wind is in your face, a high tee can be considered, since you might need the extra distance and your ball should settle nicely once it lands.
This hole has a very low eagle rate, most likely because people are still scared of hitting the trees and are trying to cut the ball into the green. If you do need to play the C3 or C2-type shot, it can be beneficial to use the hill here — let it take care of deflecting the ball onto the green. Here's a nice hole-out using the hill.
Check out this wild deflection!  Also, check out this helpful bounce!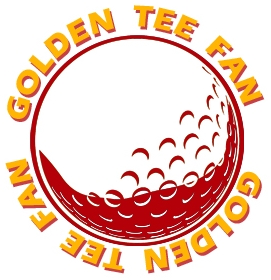 Golden Tee Fan is a Golden Tee addict from Chicago, IL, thirsty for tips and tricks!
Email this author | All posts by Golden Tee Fan