Falcon Sands — Hole #7: Par 4
By
Golden Tee Fan
• Category:
Falcon Sands
•
Handicap: 7th hardest hole
Category: Risk/Reward
Average Score: -1.07 / -2.00

| | |
| --- | --- |
| Birdie | 54% |
| Par | 14% |
| Bogey | |
| Double+ | 2% |
First, you may get a look where you can poke one over the building through the gap. Here's a medium-teed 4-wood with the Air-O balls that finds the cup, so you shouldn't have a height issue with a 5-wood or a high-teed 3-wood either.
Normally, you'll be curving a C3-type shot around the corner of the building into this green. Here's a great C3 3-wood from the left side of the box. Here's another 3-wood hole-out from the middle of the box, and here's a driver hole-out from the middle as well.
However, there can be trouble here if you aren't accurate. If you miss just slightly long and right, your ball can trickle down into the water! And being short is definitely trouble too. To be safe, aim for the middle of the green — that way, if you're a bit long or miss a bit to either side, you should still have a chip and retain your birdie. It will take practice to master distance control here.
Finally, keep the small change in elevation in mind. You're shooting a bit uphill, but not as much as it may appear!  The reward outweighs the risk here, so always go for the green!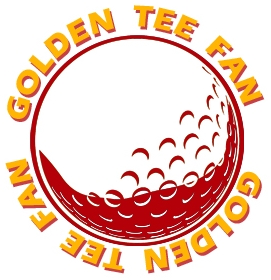 Golden Tee Fan is a Golden Tee addict from Chicago, IL, thirsty for tips and tricks!
Email this author | All posts by Golden Tee Fan