Grizzly Flats — Hole #16: Par 3
By
Golden Tee Fan
• Category:
Grizzly Flats
•
Handicap: 1st hardest hole
Category: Difficult
Average Score: +0.18 / -1.00

| | |
| --- | --- |
| Birdie | 42% |
| Par | 31% |
| Bogey | 12% |
| Double+ | 20% |
Here's one of the toughest holes in 2011 (the 2nd hardest statistically). Average score here is over par, and this is the only hole where double bogey or worse is more common than bogey! This par 3 slopes hard towards the water and has an awkward narrow green that usually forces you to make a great shot with a lofted club that the wind will also give hell!
You can see all kinds of looks here because of the giant tee box and the three areas of green that can contain the flag. Some looks can be forgiving — here's an example hole-out from a left box and here's another hole-out to a front pin.
This thing gets nasty quick if the wind is also pushing towards the water. Here's where you have to execute an A1-type cut shot into the slope. Here's exactly how to counter that slope, and here's another fantastic 9-wood cut shot.
It's ironic, but in some cases, you'd be better off in the water than in the sand. Shots out of the sand to the right are very tough to stop on the green, so you could find yourself an extra stroke behind if your chip shot goes long (or doesn't get out of the sand at all)! This makes it all the more important to find SOME green here, so take your time and do your best!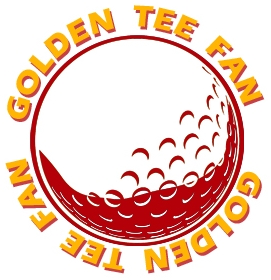 Golden Tee Fan is a Golden Tee addict from Chicago, IL, thirsty for tips and tricks!
Email this author | All posts by Golden Tee Fan