Grizzly Flats — Hole #18: Par 4
By
Golden Tee Fan
• Category:
Grizzly Flats
•
Handicap: 4th hardest hole
Category: Professional
Average Score: -0.66 / -2.00

| | |
| --- | --- |
| Birdie | 55% |
| Par | 26% |
| Bogey | 8% |
| Double+ | 1% |
This fun finishing hole offers many different potential approaches, so your game plan will usually depend on your tee box. Keep in mind that this is the toughest hole to eagle in GT2011, so don't feel bad playing safe for birdie in some cases!
If you're way to the left, you may have a pretty straight shot at the green.
The most common approach is to take a driver or a smaller wood around the left side of the trees onto the green…you can even use the hill as a backstop.  Also, here's a high-teed 5-wood that cut the corner a bit.  You can also take the high-teed 5-wood straight over the top with a back box and a tailwind.  And check out these crazy bounces! This is also the safest approach strategy with the hill as a backstop and bunker in front.
If you're towards the middle of the box and especially if you get a favorable line, you can punch a driver right through the trees! You'll find some very unpredictable looks here though, not knowing exactly how high or low your shot will go. With narrow elevation gaps between leaves and hill, it's often best to just go around instead of settling for a par attempt if you get wet.
Finally, if you're tucked away right, there's still ample room to take a wood around the right side! Here's a great shot around the right side with a 5-wood!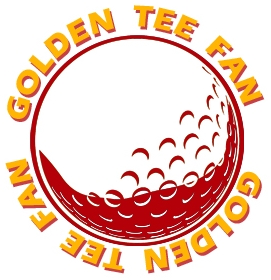 Golden Tee Fan is a Golden Tee addict from Chicago, IL, thirsty for tips and tricks!
Email this author | All posts by Golden Tee Fan