Laurel Park — Hole #18: Par 5
By
Golden Tee Fan
• Category:
Laurel Park
•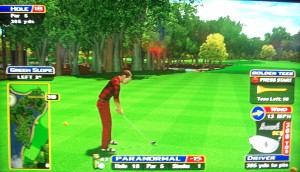 The final par 5 can usually set up drivable!  Rotate to the left, tee it low with a driver, and find a way to skip an A1 around the corner to the green.  You will usually have to get lucky and cut THROUGH the set of trees guarding the green in order to get the angle you need — talk about risk/reward!  Here it is — the super albatross! Here's another nice one, and here's a low-teed driver hole-out that skips the water! Here's another great shot that did go all the way around the trees.  Others can try to rip through the trees and get a nice hop.  And here's the HOTTEST one of all!  Another hot one here! Finally, an amazing high-teed 5-wood with a great hop!  Here's another high 5W at a straighter angle, just missing the trees over the top for a clean ace.
So we know a driver works, but what about other clubs?  Here's some advice to consider:  Use Driver any time the wind is blowing at you and right to left.  The shot is a flat A (straight back at A, not outside) and then smooth out towards the 1.  Use a high-teed 7 wood (if you have it) anytime the wind is blowing 12+ between Noon and 2:30 and the Tee box is up front.  Hit a big full A/1 (No spinny).  Use a high-teed 5 Wood anytime the wind is blowing at Noon to 3:00 and the tee is towards the back of the box.  Hit a big full A/1 (No spinny).
Apparently this hole sometimes also sets up for a C3 to the green, but I'll need to see an example before I can expand on that!
Okay, so if you don't want to risk it, here's a nice place to lay up for your approach if you have a low-lofted club like a 2-iron in your bag, and a double eagle from there!
Also, there's a "women's tee" off to the left — if you can land your drive there, you'll have an open look for a better shot at eagle!
Here's a hole-out after a long drive around the right side.  Here's another one getting a great hop off the sand!
Finally, you can just lay up to the right side of the fairway and come over the top!  A 5-wood works just fine, unless THIS happens to you!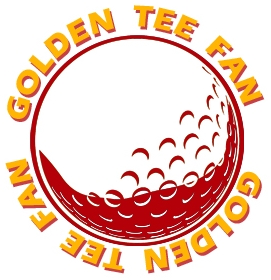 Golden Tee Fan is a Golden Tee addict from Chicago, IL, thirsty for tips and tricks!
Email this author | All posts by Golden Tee Fan