Auburn Glen — Hole #16: Par 5
By
Golden Tee Fan
• Category:
Auburn Glen
•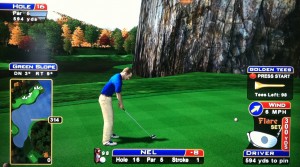 If the wind is NOT blowing left and/or straight out, you'll try to curve the ball around the mountain to the right and land on the green patch that surrounds it.   The farther around you go, the better approach shot you'll have, because a driver can be very tough especially with a left pin.  Here's a great hole-out to a front pin.  Here's a tough driver hole-out from there that got a crazy bounce out of the sand!  Here's another well-played sand deflection from there.
For extra distance, you can try an A1-type shot into this green too, but of course it's riskier.  This was an amazing recovery for eagle.
If the wind is pushing your tee shot towards this water off the tee, you may want to just hit out left and play the easier birdie route.  If you try the above curve shot off the tee and miss, you'll be dropped there and have a shot at birdie, but it will be long and difficult.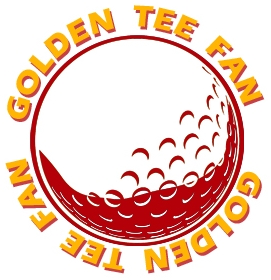 Golden Tee Fan is a Golden Tee addict from Chicago, IL, thirsty for tips and tricks!
Email this author | All posts by Golden Tee Fan