Auburn Glen — Hole #4: Par 4
By
Golden Tee Fan
• Category:
Auburn Glen
•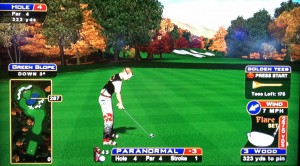 The best shot here may be a C2ish driver with backspin.  You can skip if off the water (not preferred, but doable) and/or ram into the hill short of the green (preferred), rolling up and on.   Cutting into the hill kills the velocity — here's a great hole-out using that approach!  Here's another low-teed driver into the hill acing a tough front-right pin! This one skips the water and shoots up to a back pin — awesome shot.
A high-teed 3-wood can cut over the right edge of the tree here, so you don't necessarily have to completely go around it if you choose a high tee.  This high-teed 3-wood needed just a small cut to carry the green and roll in.
Here's another approach — a high-teed 4W over this gap in the trees!  If this option is there, it may be your safest route since you're not going over water!
Make sure you use enough club here!  It's very easy to come up short in the water and have to re-tee.  Play at least one club longer than you think you need until you get the hang of the distance.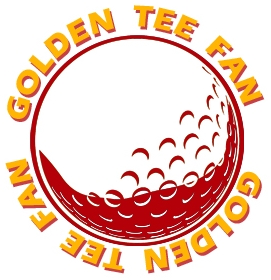 Golden Tee Fan is a Golden Tee addict from Chicago, IL, thirsty for tips and tricks!
Email this author | All posts by Golden Tee Fan