Auburn Glen — Hole #9: Par 5
By
Golden Tee Fan
• Category:
Auburn Glen
•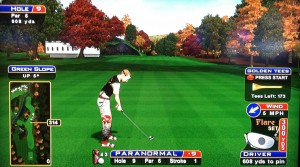 Most of the time, you should be aiming at the fairway straight ahead, especially with a tailwind!  Take a high tee and see if you can get past, or at least stay left, of the sand traps there.  Here's a hole-out from the fairway after a long drive straight ahead.  It's not as far as you think from here — even a shot laid up short of the sand straight ahead leaves only 300 yards to the green – here's a driver hole-out from there.  Here's another incredible driver shot.  And, a shot in the far sand still gives you a wood into the green.  Even if you end up left behind the tree, you still have a chance to curve one around into the green.
The shortcut area to the left provides a great approach shot, but only if you can stick the far left edge of it — a very difficult task.  A high-teed 5-wood will go over the trees if you can hit it far enough, and a high-teed 3-wood can go through the trees and still end up in the fairway.  Otherwise you can cut a C3-type shot around the corner to get as far left as you can.  Watch out for the church pillar behind the trees too — there are lots of obstacles over there.  As long as you end up off the dirt, you should have an approach shot through the gap.  Here's a perfect 5-wood hole-out after nailing this spot, and here's one with a 3-wood.  Even from the rough in front of the fairway, this 5-wood still had the angle for a hole-out!
Also check out this example driver around the left side of the church to set up a great approach shot!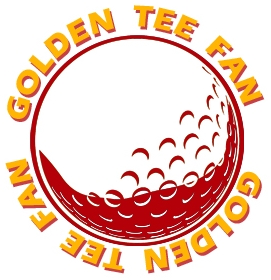 Golden Tee Fan is a Golden Tee addict from Chicago, IL, thirsty for tips and tricks!
Email this author | All posts by Golden Tee Fan