Dusty Bend — Hole #10: Par 4
By
Golden Tee Fan
• Category:
Dusty Bend
•
You CAN go left around the house to cut some distance off your approach shot, but it's usually not worth the risk unless you're sure it's an easy shot.  Sometimes it is if your tee box puts you in line with that gap, so take advantage of it if it's there.  Here's a hole-out from the front fairway.
There's nothing wrong with laying up in the first fairway to the right and bringing in a longer wood shot for your approach!  Just be careful of the hill by the green because it's all dust, so you can't afford to touch it unless it's on the downslope.  Here's a hole-out from the right side.  Here's another hole-out to a tough back-left pin.
Another option is to just play a big C3 around the corner, possibly ending up in the dust.  You can still get there pretty easily if you cut it way around.  Take a look at the pin position in this setup, where it made sense and led to a nice hole-out!
You'll never be out this far, but the combine cranks up if you hit it.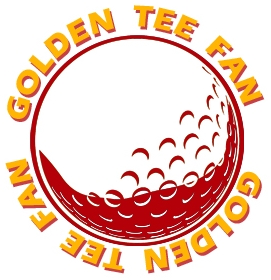 Golden Tee Fan is a Golden Tee addict from Chicago, IL, thirsty for tips and tricks!
Email this author | All posts by Golden Tee Fan