Dusty Bend — Hole #17: Par 3
By
Golden Tee Fan
• Category:
Dusty Bend
•
There are two greens here — one has you coming straight into the downslope, and one has you hitting into the green sloped hard to the left.  From the front, you've got water long (can't be there), and dirt and road short (the better place to miss).  Also be careful not to miss on the wrong part of the green, or you'll need two putts around anyway.  Here's a hole-out to a tough back right pin.  Here's another nice hole-out to a back left pin.
From the side, you may have to cut into the slope to hold the green, possibly using the hill too.  Again, just avoid the water on the left and take par at worst.  A 9-wood can actually clear the silo in front — here's a great hole-out to a front pin!  And here's a hole-out to a tough front left pin using bite.  This 5-wood cut into the slope with bite and settled in the cup.  Here's another perfect shot with bite to a back right pin.  And this 5-wood was far enough back to clear the silo easily.
And here's just an incredible deflection on one of the crazier hole-outs you'll see!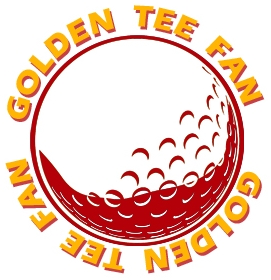 Golden Tee Fan is a Golden Tee addict from Chicago, IL, thirsty for tips and tricks!
Email this author | All posts by Golden Tee Fan