Dusty Bend — Hole #18: Par 4
By
Golden Tee Fan
• Category:
Dusty Bend
•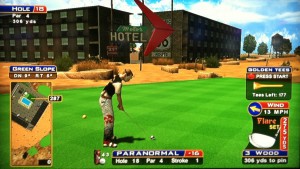 A clever change from the beta version is the addition of a sign over the two buildings on your way to the green.  Now you have to think about elevation control.  Usually, you can take a 3-wood through the gap over the building and under the sign — a driver will not clear the building if you are too close!  Here's another 3-wood through the gap on the left.  And this driver was far enough back to get over the building through the gap in the middle!
Try to go around the sign if you can to avoid any kind of elevation questions.  Then just remember to stay dry — don't be short in the water!  Try to give yourself a putt, no matter how long it may be.  Here's a great 3-wood around the left side.  Now check out this amazing 3-wood around the side with a kiss off the umbrella!  Not quite as entertaining, but watch this one back up off the concrete!  And here's a precise high-teed 3-wood landing on the concrete and bouncing down and in.  This one took a couple hops, one over the tanning hottie!
Here's an awesome 3-wood around the right side.
Check out this amazing low-teed driver right through the middle that almost went in!  And this driver grazed the roof, shot down and hopped over the pool, and in — amazing!!
There's not always a great shot at this green, so you may be laying up to the right at times.  If you do, get far enough down past the building so you have an open approach shot — here's a fairway hole-out with a 5-wood.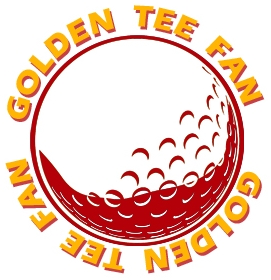 Golden Tee Fan is a Golden Tee addict from Chicago, IL, thirsty for tips and tricks!
Email this author | All posts by Golden Tee Fan