Dusty Bend — Hole #9: Par 5
By
Golden Tee Fan
• Category:
Dusty Bend
•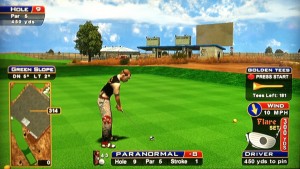 Don't hit your drive in the blacktop — it's all out of bounds!  Instead, you'll have to hit your drive straight out in the fairway, avoiding the sand.  Don't get it too close to the fence either or your approach won't clear it!  So the middle of the fairway, quite a ways down, is pretty close to where you need to be.  Hit a hard driver towards the green.  You'll have to get UNDER the drive-in screen but OVER the fence to avoid bouncing back to OB-land — very tough!  Here's an example hole-out.  With time you'll learn how hard to hit your shot so it flies through this gap and gives you a shot at eagle.  Here's another one off the top of the fence!  And here's another unbelievable deflection.
Another option is to drive to the very end of the fairway and curve around a 3-wood.  Be careful — you may have to get very lucky with this shot!  Here's a driver with the perfect angle that bounces through the sand into the cup.  This is another example to a back left pin.
And this shot curved around AND through — what a shot.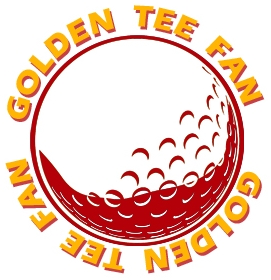 Golden Tee Fan is a Golden Tee addict from Chicago, IL, thirsty for tips and tricks!
Email this author | All posts by Golden Tee Fan