Grand Canyon — Hole #10: Par 4
By
Golden Tee Fan
• Category:
Grand Canyon
•
This hole looks harder than it actually plays.  Rotate right a couple clicks and play a C2.5-type shot with a hard cut around the mountain, usually with backspin.  This helps the ball come back left and gives you a better angle at the green.  No matter where you end up off the tee, you should have a look into this green, even if you clip the mountain on the left on your way around.
Try not to end up long in the sand — this creates the most trouble.  If you end up in the front left of the sand, though, you may still have a shot!
If the wind is in your face, it creates the toughest approach shot, but it also allows you to keep the ball well to the left with backspin as you curve it around the mountain, giving you a better angle.  Here's a lofted hole-out to a back left pin, and here's an impressive hole-out to a tough right pin!
And this was so horribly bad, it actually turned out good — worth a laugh!  Same thing here — terrible shot that got incredibly lucky!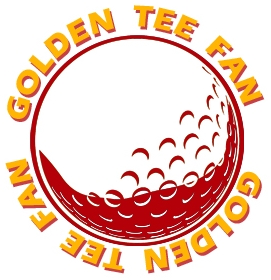 Golden Tee Fan is a Golden Tee addict from Chicago, IL, thirsty for tips and tricks!
Email this author | All posts by Golden Tee Fan