Grand Canyon — Hole #14: Par 4
By
Golden Tee Fan
• Category:
Grand Canyon
•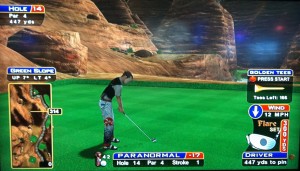 If you get the front left box, you can high-tee a 3-wood and play a small cut through the gap — here's an ace from that box.
From the middle box, this hole may be drivable — check out this high-teed 3-wood that nearly went in!  It takes a precise shot through this gap, but it can be done from here.  This one caught a nice little deflection off the rock.  This one made it clean through for a dunk – awesome!  And this high-teed 4-wood had a perfect wind to aid this perfect shot.  This one is just fun to watch, haha.
Otherwise, rotate left to find a nice landing spot up in the rocks — a 3-wood or driver will settle nicely in there!  This gives you a little floater into the green instead of having to navigate the very tough fairway with a difficult approach shot.  And while you're up there, take a listen for the Bradys yelling for Bobby and Cindy — hilarious!  You'll hear that in various places on this course if you stray too far.
Some setups may make the fairway more attractive, and here's a hole-out using the traditional route.
Finally, you CAN sometimes drive the green from the right box — you'll just have a hard time sticking it!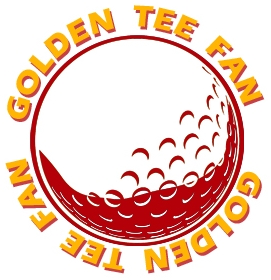 Golden Tee Fan is a Golden Tee addict from Chicago, IL, thirsty for tips and tricks!
Email this author | All posts by Golden Tee Fan