Grand Canyon — Hole #17: Par 3
By
Golden Tee Fan
• Category:
Grand Canyon
•
In beta, this hole did NOT have a sand trap in front.  If you played the Flares and had a strong wind in your face, you didn't have much option other than stroke limit, so be thankful you now have somewhat of a bail-out spot!
This hole alone makes me want to use Hawks to have a 2-hybrid for that headwind, because then you can actually hit that club pretty full with no spin and stick the green.  Otherwise, if the wind is really in your face and you have to hit a wood, you should probably be aiming for the green in front of the sand and letting the ball roll back into the sand for a chip.  That is, unless, you have perfect 5-wood distance control.
Or, you know, you can just put it up top and watch the show…here's a roller coaster-type shot that's very entertaining.  When you try this, just hope you don't have this happen!
Another note about the sand — the lip is VERY STEEP on the right side!  You may not be able to get your lob wedge over the top to a right pin.  If that's the case, rotate left and punch it out so you at least have a putt at par.  Yeah, this hole is a beast with a headwind.
Here's a 7-wood that played the side-wind perfectly.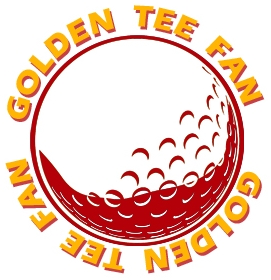 Golden Tee Fan is a Golden Tee addict from Chicago, IL, thirsty for tips and tricks!
Email this author | All posts by Golden Tee Fan