Grand Canyon — Hole #18: Par 4
By
Golden Tee Fan
• Category:
Grand Canyon
•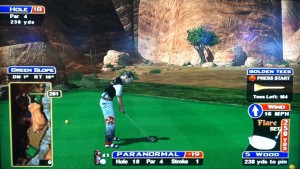 Here you'll be aiming straight through the small gap straight ahead, to the left of the green.  It's too risk to try to cut it left to right — instead, shoot straight through and use the hill to the back left of the green to deflect back down onto the green.  There is water left here, but your ideal shot is to carry the top of the hill to the right of this water (or even the base of this mountain backstop) so that you get a small deflection back down the hill towards the green.  If you hit too hard or get a bad bounce, you can deflect all the way past the green into the water as well.
That being said, here's a perfect shot with a 7-wood — clean through the gap, gentle roll down the hill and in!  Here's another high-teed 7-wood with just a small cut right through the gap, using the hill at the back.  This high-teed 9-wood was also clean and bounced down perfectly off the hill.
This high-teed 4-wood was played high off the back mountain but came back perfectly to the cup.  This high-teed 5-wood came off the mountain hot but caught the cup!
Here's an incredible 5-wood double-bank and then a little kiss off the bottom!  And here's another double-banker for an ace.  This deflection and camera angle are amazing, in addition to the results!
You can carry around the right side too, but it's really challenging and requires a great setup.  This one got caught out right on the rock, but check out this amazing recovery for eagle!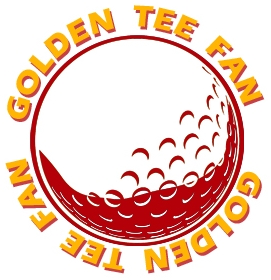 Golden Tee Fan is a Golden Tee addict from Chicago, IL, thirsty for tips and tricks!
Email this author | All posts by Golden Tee Fan