Grand Canyon — Hole #9: Par 4
By
Golden Tee Fan
• Category:
Grand Canyon
•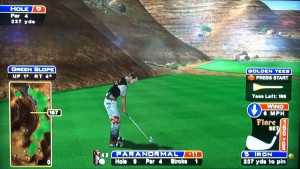 From almost every setup, a high-teed 9-wood can go straight at the green if you've got the distance.  Here's a perfect example of where you'd play this shot to a back pin.  This one actually comes at it from the left — what a crazy shot!  And this one involves a bank, which is even crazier — wow.  Here's another perfect bank at the end!
If you're towards the right side of the box, a high-teed 7-wood can go right at the green, but if you're towards the left, a high-teed 7-wood can curve safely around the mountain.  And here's a great medium-teed B3 7-wood backspun into the cup!
If you need a longer shot, you can curve a high-teed 5-wood around too — here is a high-teed 5-wood around the corner for a dunk!  If you need backspin, you're still fine if you play a big enough hook.  There's even a backstop rock if you need to get lucky!  This one also came in hot off the backstop.  And why not make the route even more scenic — crazy.
The key is to miss left if you miss at all — you can even hug the mountain on the way around, but don't miss right!
With the stiff penalty for a miss, you may want to lay up out right sometimes — here's a hole-out from the fairway.  And this shot is not recommended, but what an entertaining video it made!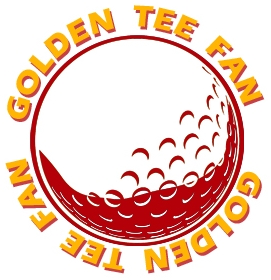 Golden Tee Fan is a Golden Tee addict from Chicago, IL, thirsty for tips and tricks!
Email this author | All posts by Golden Tee Fan