Royal Cove — Hole #1: Par 4
By
Golden Tee Fan
• Category:
Royal Cove
•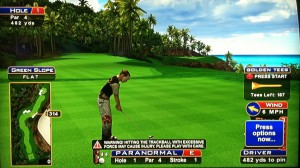 A sign of what's to come, here's one of the toughest opening holes in Golden Tee history.  Right off the bat, the first hole gets you thinking!
Laying back to the left is a good option once you figure out the distance.  You don't want to be curving a shot into the first green, so make sure you get past the trees but don't go too far out.  Here's a 5-wood hole-out.
The next best play is to use a high tee to carry over the sand on the right into the fairway.  But you don't want to blow a tee on the first hole, do you?
Finally, you can play a small cut shot around the right side into the fairway.  Sticking the fairway is not automatic, but if you at least miss left to the sand or rough, you should still be okay on your approach.  Here's an example hole-out from the rough.  Don't miss too far right or you'll fall off the edge, and you don't want to get caught up in that tree either!  But here's a hole-out from the sand on the right.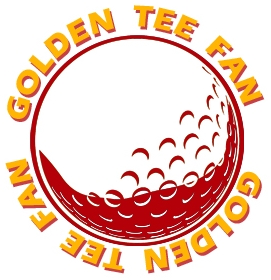 Golden Tee Fan is a Golden Tee addict from Chicago, IL, thirsty for tips and tricks!
Email this author | All posts by Golden Tee Fan