Royal Cove — Hole #10: Par 4
By
Golden Tee Fan
• Category:
Royal Cove
•
This hole will likely require a couple of small cut shots to hit the green.  Don't get too crazy off the tee — again, distance doesn't much matter, just get it somewhere right of the sand, preferably short so you don't bring it into play.  Here's a nice hole-out from behind the sand.  There's a slope to the right, so focus on your accuracy so the shot doesn't carry off into trouble.  If you do miss left in the sand, you may still have an angle into the green.
Also check out this incredible save from the woods!
Your approach could be straight depending on the pin.  Keep an eye out for a couple trees in your way, and above all else, make sure you don't hit them!  Curve your shot if you need to so that you stay in the center of that gap and end up with a putt.
Hoffa's grave is on this hole!  It's tough to end up on the other side to have a good look at it, but here it is from behind when putting on the green!  Beside is another look from the front, and here's a video of me blasting the grave — if you turn the volume way up you can hear some funeral music!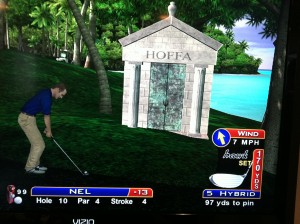 VIDEO DEMO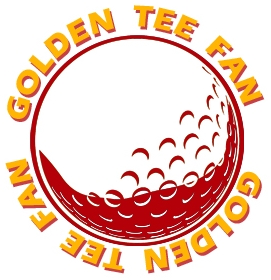 Golden Tee Fan is a Golden Tee addict from Chicago, IL, thirsty for tips and tricks!
Email this author | All posts by Golden Tee Fan