Royal Cove — Hole #11: Par 4
By
Golden Tee Fan
• Category:
Royal Cove
•
Don't pay TOO much attention to the demo here, because the hill is now higher than the demo and you have a slim chance of being able to climb up and over the hill towards the green.  HOWEVER, study this shot.  It's a medium-teed 3-wood with roll from the right-center of the box.  There's a group of three trees, and this shot goes around the right side of them.  A wind blowing left helps push the ball on track with the green, and a generous bounce off the bottom of the hill shoots it into the cup!  Here's another one from the right side of the box that took the same angle.  Notice another tree behind and just to the right of the group of three — you'll need to stay just right of that one too (and get a little lucky with the rest) to get over the hill!
Anyway, at this point, I don't recommend this shot unless you're having a bad round or just really want to give it a try.  Instead, rotate left and look straight ahead across the water with a driver.  There's a big grassy patch out here that's not too hard to stick.  From here, you'll have a decent approach into the green.  Here's a 3-wood hole-out from there. If the wind is blowing left, try to stay to the right of this patch, since your approach may be a long driver!
It is possible to cut the corner in the main fairway if that shot is there — here's a hole-out from in front of the sand there.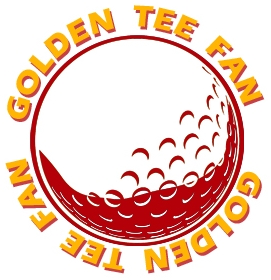 Golden Tee Fan is a Golden Tee addict from Chicago, IL, thirsty for tips and tricks!
Email this author | All posts by Golden Tee Fan