Royal Cove — Hole #14: Par 5
By
Golden Tee Fan
• Category:
Royal Cove
•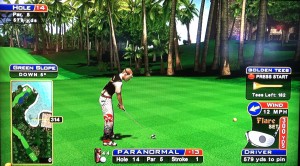 Three options here!  First, to the right, there's a narrow green patch along the wall through the trees.  If you can stick it here, this gives you probably your best approach shot for eagle — here's a hole-out from there.  It can be very tough, especially with a left-blowing wind or if you get an awkward angle on the tee box — a Golden Tee might help just to move around here!  Even if you end up short of the fairway patch, you may still be able to get there from the rough!
Next, there's a patch of green down by the sand before the water and a path for an A1-type shot off the tee to get there.  This is a very tough shot, but if you do have that left-blowing wind or a headwind, it will help the ball settle as it comes down.  It does go downhill, so don't hit it too hard and fly right in the water!  This 5-wood off the tee found the gap and stopped just short of the water.  Another option is straight over the top — a high-teed 5-wood can clear the trees.  If you have the line but are short, you can still chip down to the patch and potentially save birdie with a good approach shot, since a left-blowing wind helps you curve it around the trees guarding the green.
If the wind is blowing to the right, I don't think you should be aiming for this patch.  Not only is the drive tougher, but the approach shot will also be very hard since you have to curve it against the wind to the left.
Finally, you could possibly take a long drive down the fairway.  If you get far enough, you can curve your next shot around the trees into the green — check out this great driver hole-out from there!  Here's another one that was clean to a right pin.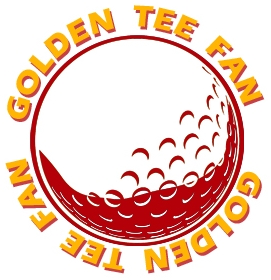 Golden Tee Fan is a Golden Tee addict from Chicago, IL, thirsty for tips and tricks!
Email this author | All posts by Golden Tee Fan