Royal Cove — Hole #15: Par 4
By
Golden Tee Fan
• Category:
Royal Cove
•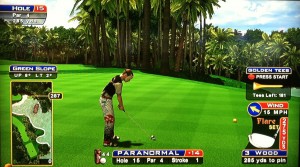 Most times you can curve a wood around the left side and plop it down on the green, sometimes using the back wall for a light deflection.  A high tee can help too.  Here's a great 3-wood from the back center box.  And check out this 5-wood played off the top of the wall, around the golf cart, and back down and in!  With a tailwind, you can also see some crazy bounces off the back wall!
Check out this driver around the left side — and pay close attention to what happens at the end!  He's found treasure!  However, the sand surrounding those chests is OB, so don't miss right!  And check out the bounces this driver gets off the hill — nice.  Finally, this driver looked like it rammed into a sponge rather than rock — amazing!
Finally, a 3-hybrid can get the job done with a tailwind, and if you've got crazy skills.
Only a very small percentage of the time should you try coming around the right side.  You may get a setup where that's your only path to the green, so make sure you play as much loft as you can to navigate around/over the ship to the green!  This high-teed driver came in hot but almost holed out!  With a left flag, this can be a decent setup.  This medium-teed 3-wood had plenty of height to get over the ship, and in!  Or, if you have a back-right tee box, a high-teed 5-wood may be the way to go — here's a great shot up and over!
If the wind is blowing hard left, however, you might just want to lay up in the fairway and go for birdie due to the penalty for an errant drive — here's a hole-out from the fairway.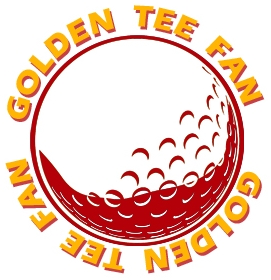 Golden Tee Fan is a Golden Tee addict from Chicago, IL, thirsty for tips and tricks!
Email this author | All posts by Golden Tee Fan