Royal Cove — Hole #16: Par 3
By
Golden Tee Fan
• Category:
Royal Cove
•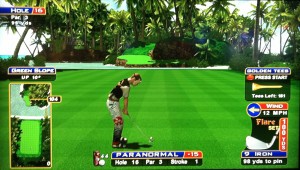 This is one of the toughest par 3s in the past several years, especially with a pin on the right.  Short = water.  Long = bank off the back = water.  There's only a sliver of green to work with.  Here's a dunk to a right pin, and here's another great hole-out.  Pray for a side wind here (here's a hole-out with a straight left wind), or a left pin so you have more length to work with!  Bail out to the left so you can two-putt for par at worst.  Even trying to hit left, you'll still clip the trees, but this one caught the hole on its way back down!  You may also be able to come in from left to right like this great shot.
Here are some more ideas for approach shots — get creative!
Club up and hit a low-teed iron (like a 7-iron).
With a strong right-to-left wind, turn one right (yes, right) and hit a 9-iron, B-1 schwerve to the fat part of the green.  If the 9-iron lines up too long, you can use a low tee with bite for this shot.  Make sure you hit far enough out left to stay left of the tree above the green.
With a left-to-right wind, move one left and lob a low-teed 9-iron out left with bite, where it should settle on the fat part of the green.
With a tailwind, it should be okay to catch that tree over the green, since your ball will still carry up the green on its way down and then settle.  So use whatever club gets you to the middle of the green in that case.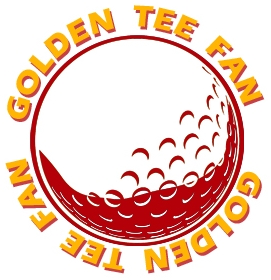 Golden Tee Fan is a Golden Tee addict from Chicago, IL, thirsty for tips and tricks!
Email this author | All posts by Golden Tee Fan