Royal Cove — Hole #17: Par 5
By
Golden Tee Fan
• Category:
Royal Cove
•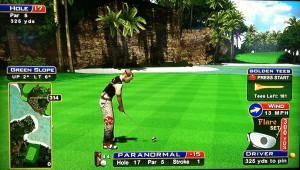 Oh, what a hole!  A chance to drive the green, but the penalty of being teed right back on the box if you miss.  The ideal setup for this seems to be a spot on the middle or right of the tee box, with a tailwind or even blowing left.  One option is a high-teed 5-wood up around to the hill that will trickle down to the green.  With a strong left to right wind, here's another great high-teed 3-wood around the side.  And this 3-wood found a clean gap through the trees on the hill on the other side and settled down in the hole!
Here's another option — a 3-wood through the small gap in the trees!  This is a medium tee with backspin that missed the leaves and had just a small curve on its way through — this is a good option too, as it usually seems to be there.
Another very risky play is a low-teed driver curved around the corner — check out this amazing shot that skips off the water and barely gets a high enough skip to land the green and roll in!
If the wind is in your face or blowing right, you can try blasting a long drive down the fairway.  From here, you can curve a 9-wood, for example, around the trees (there's also a gap through the trees over the hill if you are short), using the wind to help bring it back.  Here's a nice curving hole-out with a 7-wood.  If you don't have a shot at the green and have a wind like this, you can still have a shot at eagle this way!  Here's an iron hole-out from the fairway.
Notice that sand just around the corner before you cross the water?  Don't try it — it's out of bounds!  However, the sand on the other side is okay if you somehow end up there.  You can also end up on top of that hill on the other side and have a chip down to the green for an eagle putt.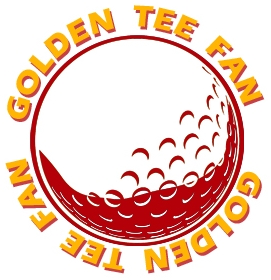 Golden Tee Fan is a Golden Tee addict from Chicago, IL, thirsty for tips and tricks!
Email this author | All posts by Golden Tee Fan