Royal Cove — Hole #18: Par 4
By
Golden Tee Fan
• Category:
Royal Cove
•
This shot is usually doable by curving around the left side and using backspin to hold the green.  Here is a perfect 5-wood backspin around the corner.  This sick low-teed 5-wood cut all the way around to a back right pin.  Here's a 2-hybrid that played a huge A2-type cut.
Sometimes you may not be able to get there with a strong left wind if you are using the Flares.  That scenario can make this hole a nightmare.  You're forced to lay up, but then the wind and slope will push your ball towards OB on your approach.  You'll have to cut a shot into the slope on your approach with a higher-lofted club, and it's just really tough.  In these cases, lay back to favor a 5-iron or lower-lofted club on your approach instead.
Another option is to use the 5-wood or 3-wood but take off some distance.  Check out this example with a low-teed 3-wood lined up with the hole.  A gentle B1 shot with backspin was perfect.  This 5-wood also took aim at the hole and played a perfect B1 shot to the cup.
Here's an example driver with a medium tee, as this shot is becoming slightly more common among some guys.
Perhaps even more dangerous, this driver took aim directly at the hill, missed all the trees, trickled over the top, and found the cup — amazing!  And this 5-wood also seemed to actually miss all the trees taking aim right at the green!
AND THEN, here's a 7-wood around the right side that was just perfect — incredible!  This 5-wood was another amazing play.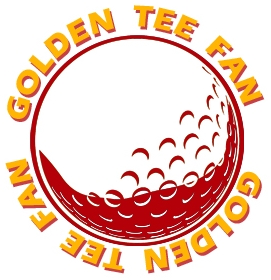 Golden Tee Fan is a Golden Tee addict from Chicago, IL, thirsty for tips and tricks!
Email this author | All posts by Golden Tee Fan